Hamilton
Events + Experiences Redefined
When the Indiana State Department of Health faced the challenge to safely deliver more than 200,000 COVID-19 vaccines in less than 90 days, Hamilton stepped in to organize the ultimate live event. Hamilton helped to plan, design, set-up, and execute multiple outdoor mass vaccination sites and mobile vaccination events across the state of Indiana. Read our blog post for more.
Watch the videos below to see our work at the Notre Dame and Sellersburg mass vaccination sites.
Are you:
A marketing executive with a complex challenge,
Community or state agency medical specialist,
Staff adviser for a defense group (commercial or government),
Government contractor,
Economic development professional,
Coordinator for disaster relief or FEMA outreach,
Executive directing a public/private partnership,
Or other professional with a complicated outreach need?
A common goal: creating experiences that tell a compelling story. Communicating, engaging, and motivating. Validating claims and creating believability. In a truly memorable fashion.
High-impact solutions
Over 74 years experience designing, producing, and executing physical and digital brand experiences that help companies connect with their audiences wherever they interact.
View our slideshow below of our solution offerings!
Seamless experiences – from concept to creation
Hamilton delivers a full spectrum of services – from precision planning to experience design to fabrication and production to execution. Plus, our tenured project management team and on-site supervisors ensure a seamless execution from start to finish.
Hamilton service offerings include:
Strategic planning and resource allocation
Brand experience design and development (physical and digital)
Collaborative marketing support
Video and digital storytelling
Event planning, management, and execution
In-house production and fabrication
Logistics and transportation
Lead generation and funnel impact
Marketing, advertising, and PR agency collaboration
AV rental and on-site tech support
No Surprises + Budget Accountability
We believe in no surprises – concerning your budget, your timeline, your expectations, and your deliverables. We partner with you each step of the way to ensure that we're aligned with your vision and your objectives.
Complex challenges and operations can create client uncertainty, especially with budget issues. With Hamilton, all changes are submitted for approval before proceeding, and our program services are standardized to ensure budget predictability. You won't be seeing adverse surprises on your final invoice. Learn more
Contact Us
Let's have a conversation to explore mutual interest. Please complete the form to get in touch with a Hamilton representative.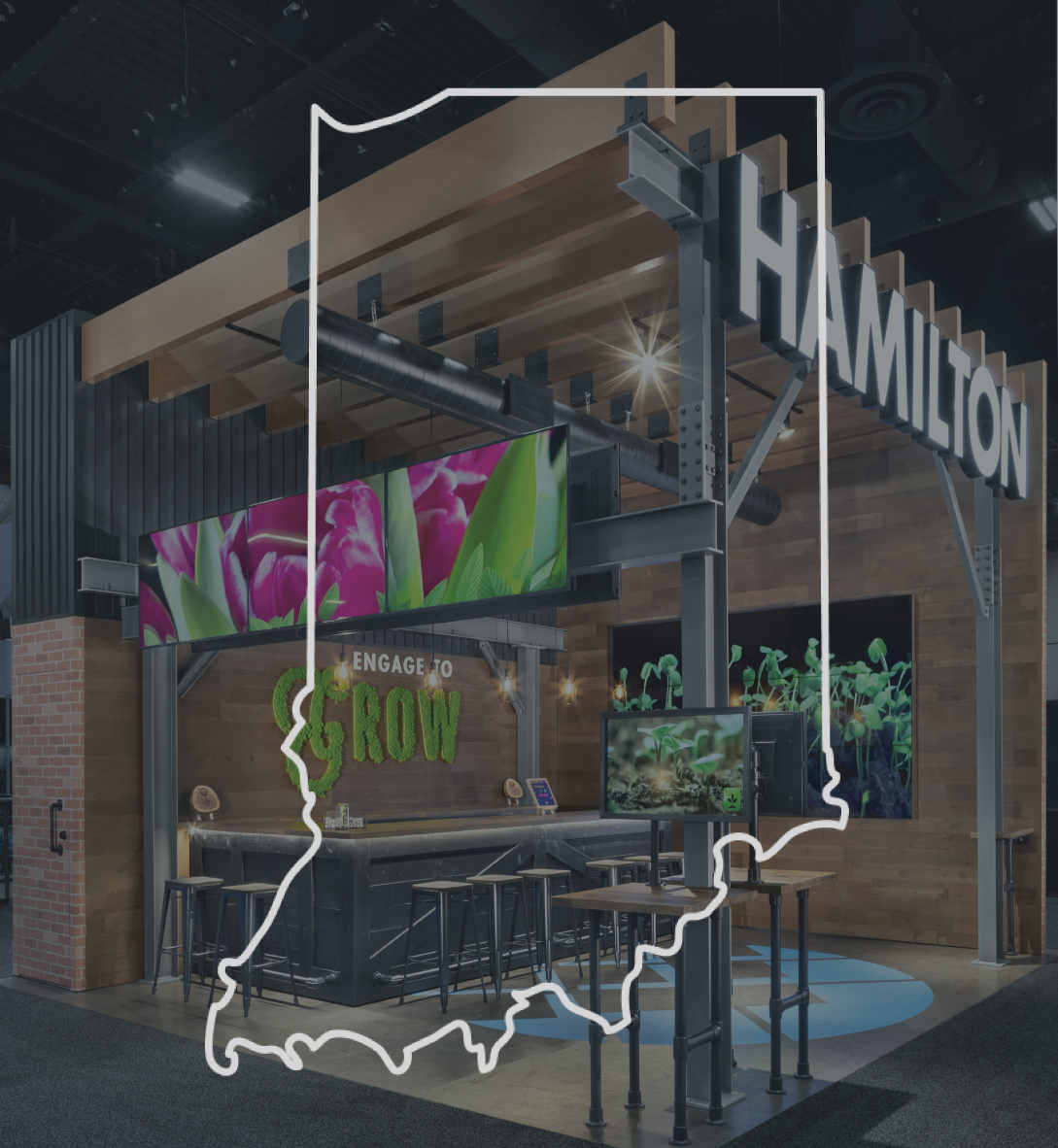 About Hamilton
Hamilton is headquartered in Indianapolis, IN and is supported by account management and design offices in Chicago and Denver. Hamilton brings over 74 years' experience crafting immersive brand spaces, both physical and digital, for companies throughout North America and around the world. Hamilton partners with its clients to engage their customers through trade shows, events, environments, and digital solutions across all industries. From security to science and everything in between, industry leaders trust Hamilton to tell their stories and bring their brands to life.
For more information, visit hamilton-ex.com.